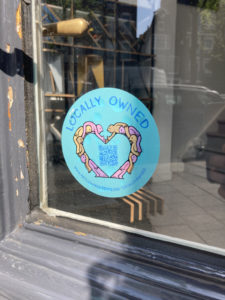 How lovely would neighbourhoods be when all shops are owned by people living in the neighbourhood?
The Locally Owned sticker* makes the invisible visible, acknowledging and celebrating how much locally owned shops give back to the communities we live in. Locally Owned shops are aware of the symbiotic relationship that exists between a shop and the people in its community. With an understanding that one's happiness and the wellbeing of the community is interdependent, the more it thrives.
Locally Owned shops reflect the diversity of people and places and cultivate a sense of belonging, trust and safety in their communities. A shop is eligible when at least 51% is owned by someone who lives in the same neighbourhood, city or village the shop is situated.
Support by the shops is donation based and 100% of the revenue generated by the sticker is spent to install solar panels in their neighborhood. Want to know more about why 7 Billion Presidents are a big supporter of locally owned shops? Check out the rest of the website.
* The Locally Owned sticker is not a 7BP company. It is to make people aware that how we spend our money builds the society we live in.